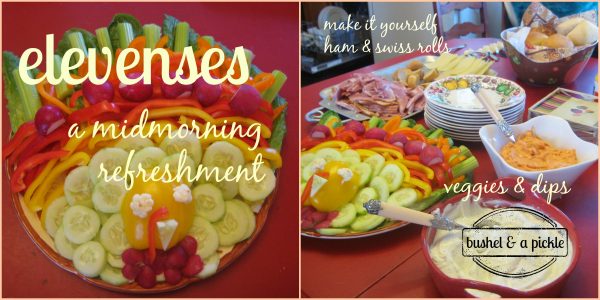 I love to read. It is no secret. I like thought-provoking and "heavy" reading and I like the entertaining escape reading of mysteries. One series heroine is curious and struggles with the fashion of the flapper days who likes food. Set in post WW1 Britain, the characters often have "elevenses" which also helps the plot move along.
Strictly speaking, it is a midmorning refreshment primarily consisting of biscuits or cookies as we Americans call them. When we lived in Germany years ago, many people stopped mid morning for a refreshment usually of a brotchen and cold cut with cheese.
My family loves Thanksgiving! For the first time in years we are not hosting! Or cooking the turkey. Looking forward to change!!
Our Thanksgiving Day usually starts rather early. Breakfast may or may not be cooked. By mid morning after making pies and cutting up veggies, after watching the parade, it is time for "elevenses" .
Pies and sweets are for later in the day. I usually have several appetizers set out for light refreshments in anticipation of THE meal.
The refreshments last year were ham & swiss cheese make it yourself rolls. I set out the condiments, plates and forks.
The girls had fun making the veggie turkey! Do you remember it making the rounds last year? A "sure to make you smile" offering. Dips were Ranch and Linda dip. The special ingredient is Wishbone Russian Salad Dressing. You can substitute Catalina Dressing.
Here is the very simple recipe!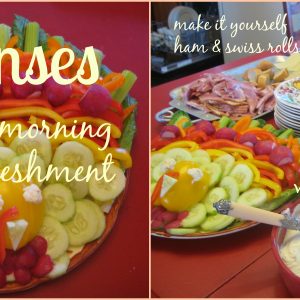 Linda Dip
Easy delicious vegetable dip with a pop of color!
Ingredients
8

oz

cream cheese softened

1

small bottle Wishbone Russian dressing

Substitution: Though Wishbone Russian more flavorful for this dip it can be hard to find. Use Catalina Dressing as a substitute.
Instructions
Mix the 2 ingredients until blended throughly.

Chill until serving.

Serve with fresh raw veggies especially cauliflower! Great for any large gathering.
Okay, just in case anyone is wondering, there is a lot of grazing that goes on !
How does your Thanksgiving Day begin?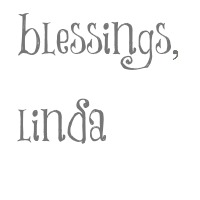 linking with these great blogs!