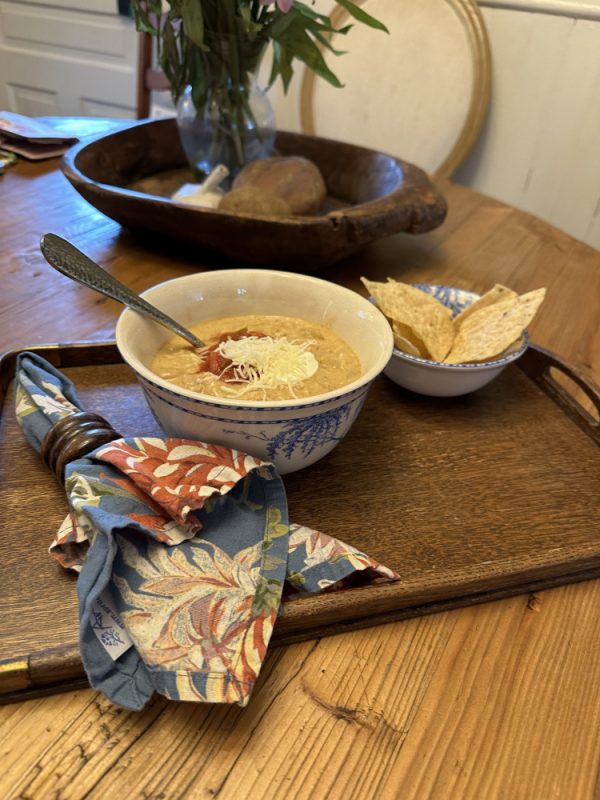 It's fall and. that means cooler days and slight changes to our menus. Roasted pork and roasted fall vegetables are delicious. Though we have soups and stews all year long ,there is just something about cooler weather that makes it taste so much better!
Changes for health reasons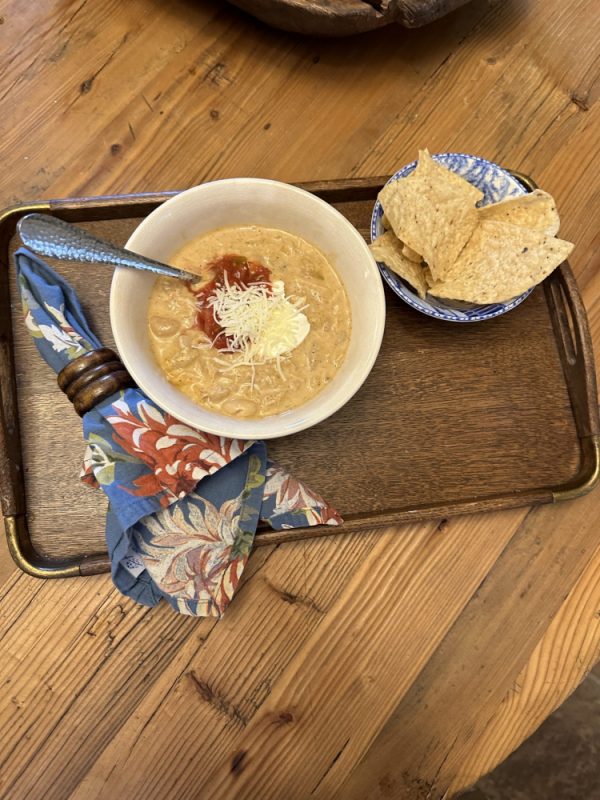 In my mind , chili is red! White chili didn't have any appeal to me. But something changed.
My husband has health issues that meant major chnages in his diet, Foremost, he could no longer eat beef, pork or shell fish. For awhile, no dairy. It makes it tricky for making dinner.
Making a new kind of chili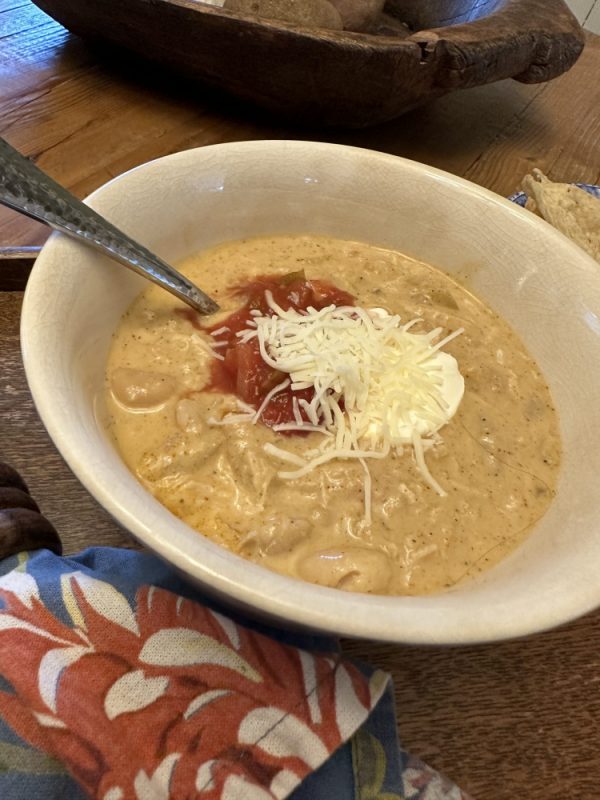 Because he asked I searched for a recipe I thought we would enjoy snd eould be easy to make. I found this one for inspiration. I did not make it in my crock pot! But I did like that I could adapt it to our taste and it would be easy to prepare.
Many have lots of spices, ingredients and steps. When I make red beef chili, it is one of the simplest dishes I make. I wanted the same for this white chicken chili.
This one is uses canned beans, another easy ingredient.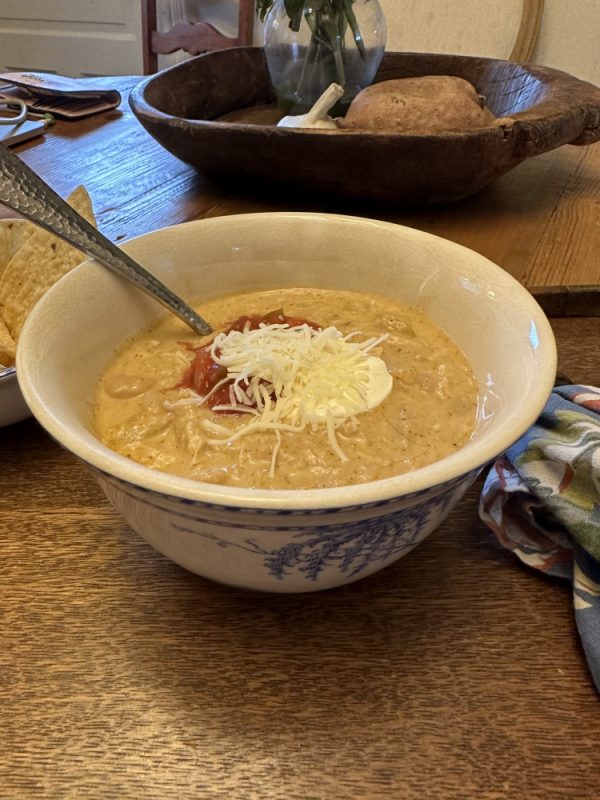 Using rotisserie chicken was genius! These days with only 2 or 3 or 4 of us, mostly just the 2 of us, quick and easy is my preference. Jim and I are rretired. The girls often are home for supper which we like!
I am on the hunt for short cut dishes. Rotessiere chicken was just the ticket. Our local gorcery store's is really good. Since it is precooked I just hand shred it and add to the pot.
Rotisserie Chicken White Chili
Quck easy white chicken chili made with rotesseri chicken for a delicious quick to make meal
Equipment
cutting board

knife

large heavy pot

spoon

strainer

large fork

small bowl

measureing cups and spoons
Ingredients
2

cans

white beans

1

whole rotesseri chicken shredded by hand

don't use skin. Option: roasted 1½ lbs boneless, skinless chicken breasts, cut into chunks. Ads to prep time.

1/2

small onion chopped

3-4

garlic cloves chopped

1

4 oz

jar of chopped mild green chilis

2

teaspoon

chili powder

1/2

teaspoon

smoked paprika

3

cup

chicken broth

salt to taste
Garnishes and Chips Suggestions
salsa

shredded cheddar or Monterey Jack cheese

sour cream

avocade slices

jalapeño slices

Cilantro

lime slices

tortilla chips, corn chips, plain tortillas
Instructions
Shred chicken into small pieces

Drain beans and take about 1/3 and smash them with a fork. This will thicken the chili.

Chop onion into small pieces. Saute in large pot with a little oil on med high setting

Toss seasonings into large pot and stir

Add chicken and toss with onions and seasonings

Add smashed and whole beans, stir

Heat until hot on med high.

Serve, garnish and enjoy!
Enjoy!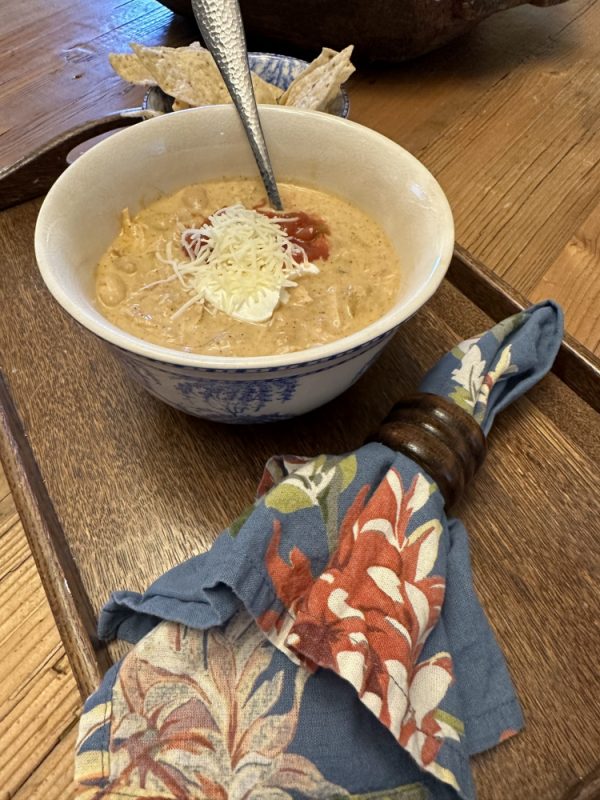 Serve with garnuishes that your family enjoys. I used sour cream, salsa and shredded cheddar cheese. Other flavorful toppings are lime, advocado and extra jalapeños for more heat.
This white chicken chili keeps nicely in the fridge for up to a week. Handy for lunches or 'I don't want to cook' nights!
Hope you enjoy!
~~~~~~~
This site contains affiliate links to products. I may receive a commission for purchases made through these links at no extra cost to you. Thanks for any purchases you may make!

~~~~~~~~~