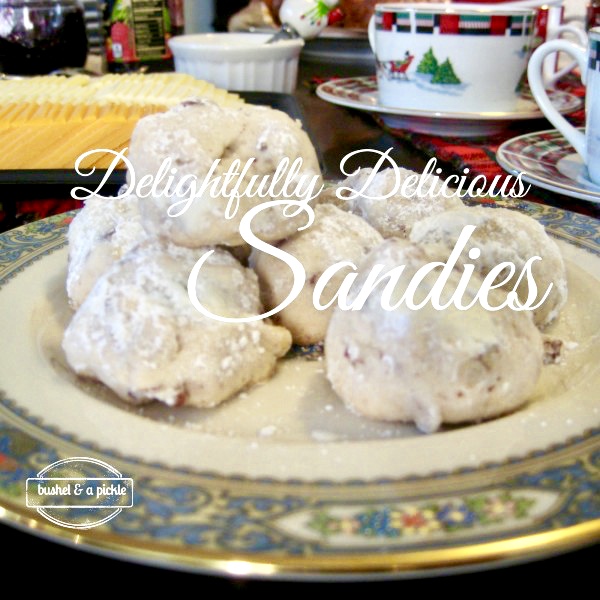 A favorite of our family and undoubtedly anyone who has ever tasted this delightfully delicious cookie!
These delightfully delicious cookies rolled in powdered sugar when warm are so, well, delicious. We call them Sandies. There are many names for these cookies but they all mean delicious!
EASY to make for festive treat
My daughter who loves to bake and her younger cousin made these for us. Somehow we managed to save enough for Christmas morning It wasn't easy. On Christmas morning while opening gifts, Sandies are a perfect festive touch to our simple breakfast of warmed croissants, jellies, cheeses, ham slices, berries, juice, coffee and hot chocolate. Just slightly decadent!
We don't usually make a cooked breakfast Christmas morning. We are under the illusion we eat less, saving room for the main meal later in the afternoon. Because our family will want something later, we'll have a vegetable tray and maybe some cheeses like baked brie.
It is a quick easy to make cookie recipe with lots of star power for any occasion including " just because" they are so delicious!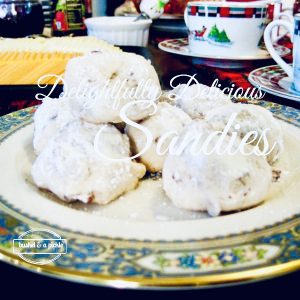 Delightfully Delicious Sandies
Easy to make cookies for the holidays and anytime!
Equipment
mixing bowl, mixer, knife or mini chopper,cooling rack, cookie sheet

dinner plate or pie pan for powdered suger
Ingredients
1

cup

butter

1/3

cup

sugar

2

teas

water

2

teas

vanilla

2

cup

flour

1

cup

finely chopped pecans

almonds can be substituted

1/3

appx cup

powdered sugar

may need more or less
Instructions
Preheat oven to 325 degrees

Cream butter and sugar together

Add vanilla and water, mix well

Form the dough into a ball

Wrap in clear wrap and chill for over an hour

Shape chilled dough into small balls

Bake at 325 degrees for 20 minutes

Cool slightly on cooling rack

Roll warm cookie in powdered sugar

Store in air tight container
The dough will keep for several days in plastic wrap in the refrigerator. Just shape them into crescents or other shapes, bake and roll in powdered sugar for a different look. Finely chopped almonds are a wonderful alternative to pecans.
Store in an air tight container.
enjoy!
Other names for these delicious cookies is Crescents and Wedding cookies. If you need a goodies for "Greek Day" in world cultures class, these are a traditional treat. Make them with almonds though!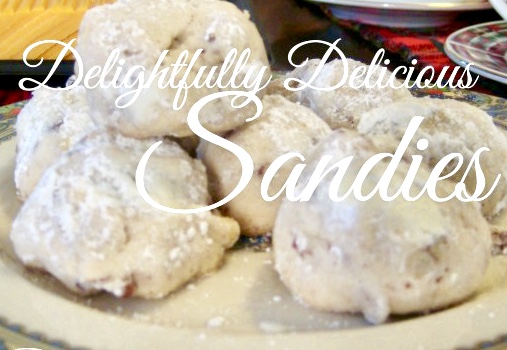 Hope you enjoy the delightfully delicious cookies!
We are totally OKAY with serving cookies or pies for breakfast on occasion especially Christmas morning.
How about you? Did you serve special cookies or other sweets Christmas morning?
~~~~~~~